eVintage
blog tag time! I was tagged by Jen at
Penelopepup's Vintage Blog
to answer some question about this years Oscar fashions.
1. FAVORITE GOWNS OF THE NIGHT & WHY?
I actually had a sort of hard time with this question! There really weren't any that reached out and grabbed my attention this year. Hilary Swank's Versace was a lovely design and cut, but I think the decorative beaded flowers on the bust were too much - it would have been a show stopper without this. Renee Zellweger's gown was lovely old Hollywood, unfortunately the platinum color seemed to wash her out a bit. And although a lot of people didn't care for it, Cameron Diaz's pink Dior gown, I thought, was lovely on her - although maybe she should have rethought the pony tail!
2. WHAT ERA DO YOU THINK IT REPRESENTED BEST?
Old world Hollywood glam
3. LEAST FAVORITE GOWNS OF THE NIGHT & WHY?
Boy, there were several. First, I'd have to say Anne Hathaway's big red mistake. It's a bit much. Minus the hideous floral bust accent, it might be okay, but still perhaps a little too much Grecian drape.
Another would be George Clooney's date, Sarah Larson. He's his sexy dapper self as always, but that dress...talk about a gawd-awful pattern!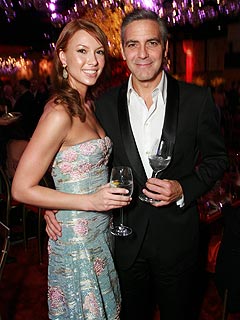 Daniel Day-Lewis' wife, Rebecca Miller. The dress...the shoes...equals one big mess.
And finally...Diablo Cody in her Betty Rubble dress...whaaaaaa???
4. WHAT ERA DO YOU THINK IT REPRESENTED BEST (or worst, as it were)?
Boy hmm...I suppose 70s/80s for Anne, definitely 80s Dynasty (all it needed was a giant bow or ruffles!) for Sarah, as well as the do-it-yourself Bedazzler 80s era for Rebecca, and Diablo...I suppose Flintstones, circa 1,000,000 B.C.
5. TILDA SWINTON, FASHION SCORE OR SCARE?
Well, definitely not a score! Heavens.
6. WHAT DID YOU EAT WHILE WATCHING THE SHOW?
Hmm, I can't remember if I was eating anything or not! Probably not. I actually did not watch the show, hubby and I were working on our house that's going up for sale shortly.
You can follow the blog tag on over to
Sydney's Vintage Loose Threads.